Sustainability
Well Managed Fisheries
With a healthy biomass and stable harvests, Pacific halibut is one of the most sustainable fisheries in the world. The International Pacific Halibut Commission (IPHC), a bilateral commission established by treaty between the U.S. and Canada, uses sustainability principles designed to ensure that future populations thrive. Their state-of-the-art survey, research, and analytical tools assess stock size, health, annual migratory patterns and in-season movements, recruitment strength, and other data. IPHC's monitoring efforts and collaborative relationships with federal, state, and regional agencies also track the effects of commercial fishing, recreational angling, and subsistence fishing on the health of the halibut biomass.

The Pacific Halibut Fishery was awarded the Marine Stewardship Council's (MSC) certification seal in 2006, after a rigorous assessment of the industry. For more information on the Marine Stewardship Council, visit their website.

Pacific halibut has been managed under an Individual Vessel Quota (IVQ) system in Canada since 1991 and under an Individual Fishing Quota (IFQ) in the United States since 1995. The change put an end to the derby-style seasons where annual catch limits were landed in a matter of days and plants were flooded with fish. The result is a higher quality product, increased safety for the fleets, higher overall value for the fishery, and less waste. Quota holders now choose when to go out fishing during a nearly nine-month season.

By-catch of non-targeted species and of halibut in other fisheries has been dramatically reduced thanks to modified gear and fishing techniques. For more information, go to http://www.iphc.washington.edu/halcom/research/research.htm and click on one of several research reports regarding halibut by-catch.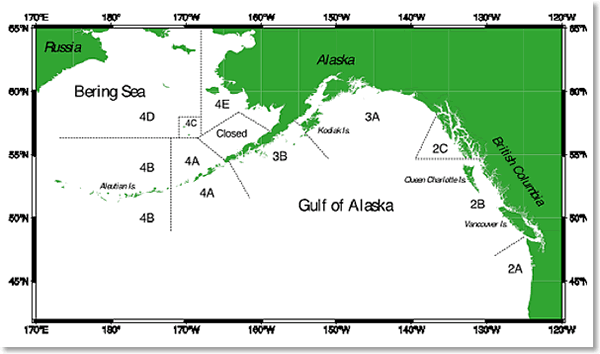 Pacific Halibut Harvest Areas
IPHC determines catch limits for each harvest area in the U.S. and Canada each year. The U.S. National Marine Fisheries Service and the North Pacific Fisheries Management Council and Canada's Department of Fisheries and Oceans allocate the limits among sectors within those harvest areas.

About 80% of the halibut caught is hauled in by commercial vessels. Between 12-15% is landed by sportsmen or recreational fishers. The remaining is split between personal use (subsistence) and IPHC landings done in the course of research surveys.

HANA supports a cautionary approach to conservative management and sensible regulatory practices.